Nifro Lillie Lundon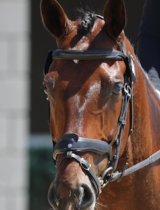 Nifro Lille Lunden, Don Schufro x Future Cup has made his long journey from the Netherlands in December 2016.
Danish bred and purchased in 2014 as a foal from the Borculo Elite Foal Auction, Nifro remained in Holland to grow and develop.
Nifro is one of the last sons of the legendary Blue Hors Don Schufro. Nifro shines thanks to his ligthfooted, functional gaits and striking uphill type. Grandsire Blue Hors Future Cup was successful at Grand Prix level, ridden by Anna Kasprzak. Dam NICOLETTA LILLE LUNDEN scores well in her performance-test and entered the Danish main studbook. Her dam and granddam are decorated with the elite predicate, thanks to their success in breeding. This in Denmark appraised damline produced dressagehorses at the highest level and premium-stallion and winner of the 35-days test Vincent Marenello (Blue Hors Zack x Future Cup). Nifro's full-sibling is at Blue Hors stud.
Bloodline