Van Eyk Geneva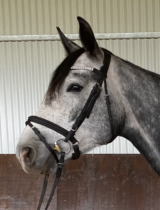 Escudo I x Gymnastic Star. 14/12/14.
An extraordinary jumping talent, she loves to jump.
A super confirmation, is athletic and attractive. She is the image of her famous father.
Geneva travels effortlessly to the jump, she gives you a great feeling off the ground.
With sensitivity of a top class Showjumper, she is willing and more than able.
Point her at it and she eats up the course.
We are looking for just the right home for Geneva to make her potential.
Superior breeding and loads of talent and a highly fertile dam line, ride and breed.
It's hard not keeping this one for our breeding program but we want her to fly.
Bloodline