Nava De Jeu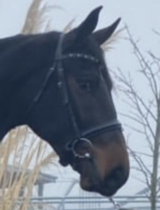 Nava De Jeu is boarded a plane from Holland in January 2021 bringing the best of the KWPN to our shores.
Thank you to
Emmy De Jeu
for again offering one of your most special. A daughter of Sisther by Vitalis purchased at a week old.
We've set Nava up for the very best chance to emulate her famous mother. Edward Gal rode Sisther De Jeu to the heights of Grand Prix and then went on to make another Gribaldi horse famous in Totilas. History is still being written with this amazing line of horses.
Nava has joined our breeding program via embryo transfer and has two Le Formidable foals due January 2022.
She will make her competition debut later this year.
Bloodline
Nava De Jeu
-
-
-
-
-
-
-
-
-
-
-
-
-
-
-
-
-
-
-
-
-
-
-
-
-
-
-
-
-
-
wp_footer(); ?>