Chequille Z XX/OX rate: 47,46%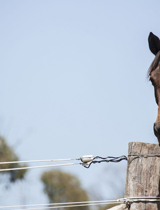 ZANG 056015Z530099 stallion 1999 brown 1.68m lic: HESS, ZANG, SI, OLDBG, RHEIN, HANN Grand Prix dr.
Chequille was the shining overall winner of the 2004 Stallion Performance Test in Neustadt/Dosse with 137.37 points and the reserve champion in both dressage and show jumping. In this Brandenburg horse paradise, he was also the champion of the 30-day test. With Chequille, Brookhouse Stud is introducing a first class, highly acclaimed performance champion, registered with the Zangersheide studbook and Holsteiner bred. Level-headed, rideable with wonderful basic gaits and an unheard of jumping talent with: scope, leg usage and potential that can only be described with superlatives.* Chequille has already proven his versatility in the competition ring. He was fifth in the highly prestigious Challenge-Cup in Wiesbaden and was a winner regularly in show jumping classes at A- and L-level. Ranked second with a 9.2 score at the qualifier for the 2005 World Championships for Young Dressage Horses in Verden and then made his way through to a successful Grand Prix Dressage career with British Olympic dressage rider Emma Hindle. 
His sire Caretano Z is a world class show jumper at the highest level. He won Grand Prix classes and Nations' Cups under Jos Lansink. Through the highly noble Lavall II and Latino, Ladykiller xx thoroughbred blood is infused in the dam line. Calypso I, who is an extremely versatile producer and well praised for the quality of his basic gaits, completes Chequille's pedigree.Chequille descends out of the Holsteiner line 474 A that also produced top sires Calato, Chagallo, Cicero, Colombo, Highline, Gigolino, Great Pleasure, Ishan, Loxgraf Go, N-Aldato, Nimrod B, Quality Boy, Rex Nimmerdor, Sir Tom and the internationally successful eventing horse Brilliante und Geliebte (under Inken Johanssen).
Bloodline
Progeny